UNIVERSITY OF MILAN 
May 18-19th 2023
Sala Lauree, via Conservatorio 7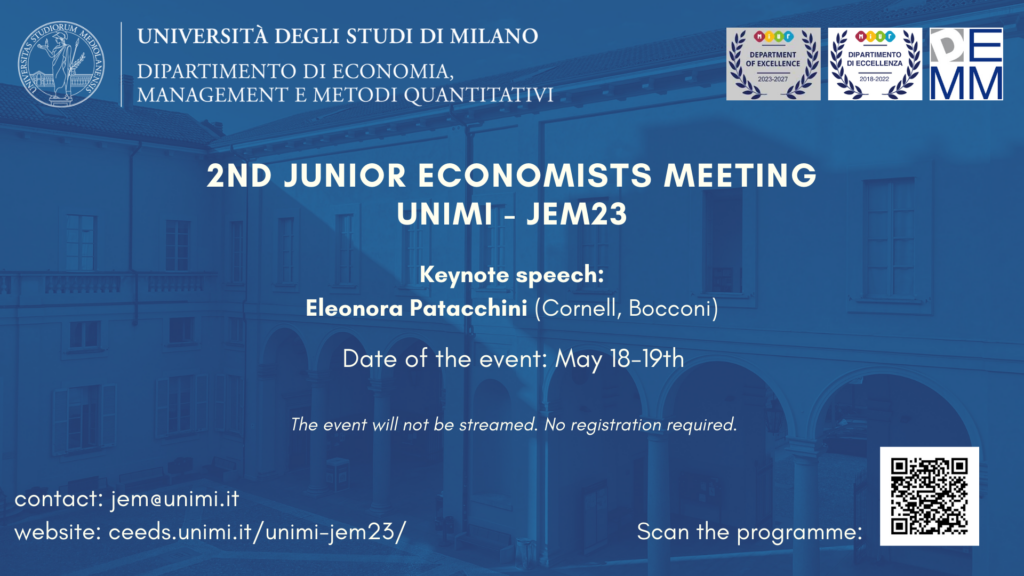 The workshop will host a keynote lecture by Professor Eleonora Patacchini (Cornell, Bocconi).
PhD students and early career researchers (up to 5 years from their PhD viva) working on applied topics (applied micro, experimental and behavioural economics) are invited to submit their work via the application form by the end of the 19th of March. Extended abstracts will be considered, but priority will be given to full draft submissions.
Program
Speakers will present their work to an audience of junior and senior researchers. Presentations will last for 30 minutes and will be followed by a 10-minute discussion and a 5-minute Q&A.  Participants may be asked to discuss one paper in their session close to their specific expertise. The event will begin around 2 pm on Thursday (May 18th) and end around 5 pm on Friday (May 19th) to allow participants to arrive on the first day and leave on the second if they wish. There is no conference fee, invited speakers can apply for financial assistance for accommodation and travel expenses. Participants will only be eligible to receive financial assistance if they have indicated this in the application form.
Important Dates
Deadline for submission: March 19th.
Notification of acceptance: April 10th.
Date of the event: May 18-19th.
Scientific committee:
Simone Ferro, Veronica Rattini, Andrea Riganti, Alessio Romarri.
---